Print your own way
What do you need?
I AM READY
Let's complete your order in four simple steps
Step 1.
Import files into our web app to get a quote click here ↗
Step 2.
Choose available technology and material read more ↗
Step 3.
Let us check your order, we will confirm it as soon as possible
Step 4.
Expect your finished parts, we will keep you informed
I can use some help
Use the help of our top engineers
Engineering services
Our engineers are at your service. We are experienced in prototyping, modeling, for example, based on a technical drawing or reverse engineering based on a supplied part. We also offer FEM and CFD simulation and engineering consulting services.
3D scanning
Lack of design files is not a problem, advanced 3D scanners allow us to reproduce every detail of the entrusted elements. We will develop a suitable design files with the production process in mind, so that you get the product you want.
Any questions?
Just let us know
Additive manufacturing in metals and polymers
Available materials and technologies
Polymers
MJF (Multi Jet Fusion) technology and the HP MJF system.
Ideal alternative to injection molding for short- and medium-volume production.
High dimensional accuracy and repeatability of manufactured parts while maintaining excellent strength parameters.
Available materials: PA 11, PA 12, TPU
Maximum size of a single component: 380mm x 284mm x 380mm (larger parts can be cut and combined in the post-production process).
Metals
L-PBF (Laser Powder Bed Fusion) technology and the MetalFAB system.
Latest generation of metal powder sintering system.
Properties equivalent to those of parts produced by classical methods like CNC.
Available materials: 316L stainless steel (1.4404), M300 tool steel (1.2709), Aluminum AlSi10Mg, Titanium Ti6Al4V Grade 23, Inconel 718
Maximum size of a single component: 420mm x 420mm x 400mm (larger parts can be cut and combined in the post-production process).
Component housing for electric motorcycles
3D printing in polymer (HP MJF system)
Replacement impeller
3D printing in metal (MetalFAB system) and in-house CNC milling (post-processing)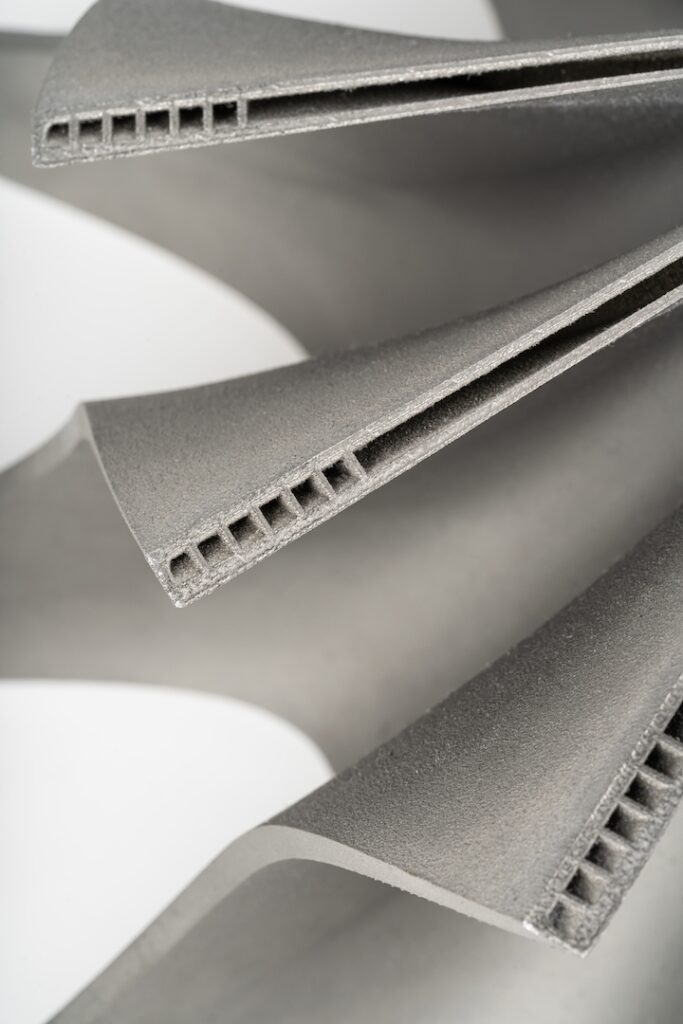 Branches
Applications of additive technologies
MANUFACTURING
Don't wait for weeks for spare parts! Parts that are unavailable or hard to find on the market with us are at your fingertips.
TOOLING
Create with us specialized instruments and parts for machines and production lines. We will quickly produce even the most complicated parts.
SMALL BATCHES
3D printing to suit your needs, with us you will make personalized parts regardless of their production quantity. Manufacturing individual parts does not involve increased costs.
AUTOMOTIVE
Prototypes that turn into mass production parts. Demonstration models of new, innovative solutions. Functional small-batch components and production tooling.
MEDICINE
Science and technology allow us to push further boundaries. We create orthoses, prostheses and implants. Medical device components, surgical instruments and educational models.
AVIATION
We manufacture high-quality, small-batch parts with complex geometries. We maximize lean design while maintaining expected strength.
AEROSPACE INDUSTRY
Parts with complex geometries subjected to a topological optimization process are no problem for us. Parts for manipulators and structures in a new, lighter design are the future of the space industry.
ENERGY INDUSTRY
A key industry for which we can manufacture chemical plant components and products with high corrosion resistance. Heat exchangers and housings for key components.
HEAT EXCHANGERS
Increase the efficiency of your heat exchangers by enlarging their exchange surface thanks to the possibilities offered by 3D printing. We manufacture components for systems using thermodynamic phenomena.
MILITARY INDUSTRY
With our technology we can produce components for personal equipment and armaments. Parts for military equipment and vehicles. Components with unprecedentedly short lead times.
PASSION
Is your passion the only thing that drives you? Realize the most demanding projects with us. Dedicated parts and components that will bring you closer to perfection. Create special and unique things with us.
DESIGN OFFICES
Give your projects a physical dimension! Surprise your customers and present them with a working prototype. You are not limited by the form, only by the laws of physics. Show what you can't see every day and invite your customers into the wonderful world of 3D designs.
R&D
Prototyping is an iterative process, full of small successes and failures. Our technologies will allow you to quickly test new ideas and solutions. We are here to make your innovations see the light of day and change the world.
ART
Are you an artist and need sophisticated shapes for your artwork? Do you want to make copy to experiment with form? 3D printing is the answer to your needs.
ARCHITECTURE
Print mock-ups of buildings, bridges and other breathtaking architectural elements. Recreate forgotten elements and breathe life into your designs.
Get in touch
If you have any questions or just want to say hello, please don't hesitate to contact us. We'll get back to you soon.
Contact
Contact form